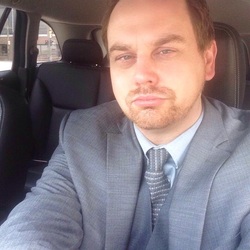 JOEL K. MITCHELL, Attorney-at-Law
I have been regularly preparing, filing, and representing clients on bankruptcy cases for over 20 years.
During that time, I have filed and successfully seen through over 1,600 Chapter 7 bankruptcy cases.
I am certified to practice in all 3 Bankruptcy Courts in Oklahoma: (1) Northern District in Tulsa; (2) Eastern District in Okmulgee; and (3) Western District in Oklahoma City.
I have 2 convenient law office locations in the local Tulsa, Oklahoma, area, as explained below.
Mitchell Law Office

My

main office is located at 1318 W Main Street in Collinsville, a half-mile West of Highway 169 and a half-dozen East of Highway 75.

It is on the north side of Main Street, aka 146th St N, aka Highway 20W, not to be confused with 20E or 116th St N, West of the Collinsville stop lights, across from the Baptist Church and beside the local State Farm agent. It is a stand-alone building, with free parking.

Paperwork may be dropped off during business hours Tuesdays and Thursdays, and appointments may be scheduled on at mutually-convenient times, on weekdays, evenings or weekends.

The Professional Center

Although i do most of my work from my Collinsville office, more clients actually meet me initially at my Tulsa office which I share with several other attorneys.

This grey-brick, three-story building is located at 1408 S Denver Avenue in Tulsa. It is caddy-cornered across the street from the Quiktrip located at the intersection of 15th & Denver Ave. Free parking is on the left side of and behind the building, West of Denver Avenue.

A receptionist is always there, and documents may be dropped off during business hours on any weekday; and appointments may be scheduled on weekdays at mutually-convenient times.


WE ARE A FEDERALLY DESIGNATED DEBT RELIEF AGENCY PURSUANT TO TITLE 11 OF THE U.S. CODE.
WE PROVIDE LEGAL ASSISTANCE AND HELP PEOPLE FILE FOR BANKRUPTCY RELIEF UNDER THE BANKRUPTCY CODE.